Probably live performance on NYE! She's already hosting the show, so would make sense to perform there and promote the musical at the same time.
Posts: 26873
Joined: 28 Jun 2004, 02:32
Gender: Male
Custom Title: f.k.a. IER
Location: Bitchland
They're probably making a mimed performance so they pre-recorded the vocals in the studio.
-If you really bug me, then I'll say goodbye.
Posts: 857
Joined: 25 Mar 2009, 20:58
Gender: Male
Custom Title: SPICE FORCE FIVE
Country: United_States
Location: New York City
It's weird. She 'performed' a song by Velma Kelly, yet she's starring as Roxie Hart.
1-2-3-4-5, SPICE-GIRLS!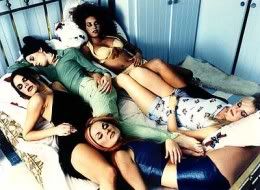 ---
Who is online
Users browsing this forum: No registered users and 4 guests